Now mind you, while yes, I am a lazy mom, I also discovered Pinterest.  And Pinterest is making me a better (and more tired, if we're being honest) mother/wife/woman.  Mind you that I don't have this easily upgradable house.  We have a 40's Cape, and there is one bathroom.
Let me talk to you about having one bathroom when you're married.  There is no room for romance when you have one bathroom.  Why?  At some point, one of you will have the stomach flu when the other one is taking a hot, steamy shower.   And there is nothing romantic about that.
Making matters worse, it's the size of a coffin.  At the largest point, it is as wide as the bathtub.  Seriously.  There isn't room in there for a person and a sneeze.  It's the worst bathroom ever!  A few years ago, we "redid" the bathroom.  And I tell you, I must have had a seizure or something when I picked out the colors.  I don't know what on earth I was thinking.  They are AWFUL.
Oh Dear God
 Yeah, you thought I was kidding, didn't you?
Sometime in 2009, we updated the flooring and the vanity, which made a marked improvement, but the color.  It's so bad, y'all.  See?
"Improvement"
 Oy.
So I saw this random vanity on Pinterest, which sparked an idea.  And that led me through LOTS of different scenarios in my head on exactly what I wanted to do.  And over a month's time (because I'm lazy, duh), that bathroom turned into this one:
Whaaaaaaa?
No natural lighting in the entire room, forgive me.
Damn, Gina!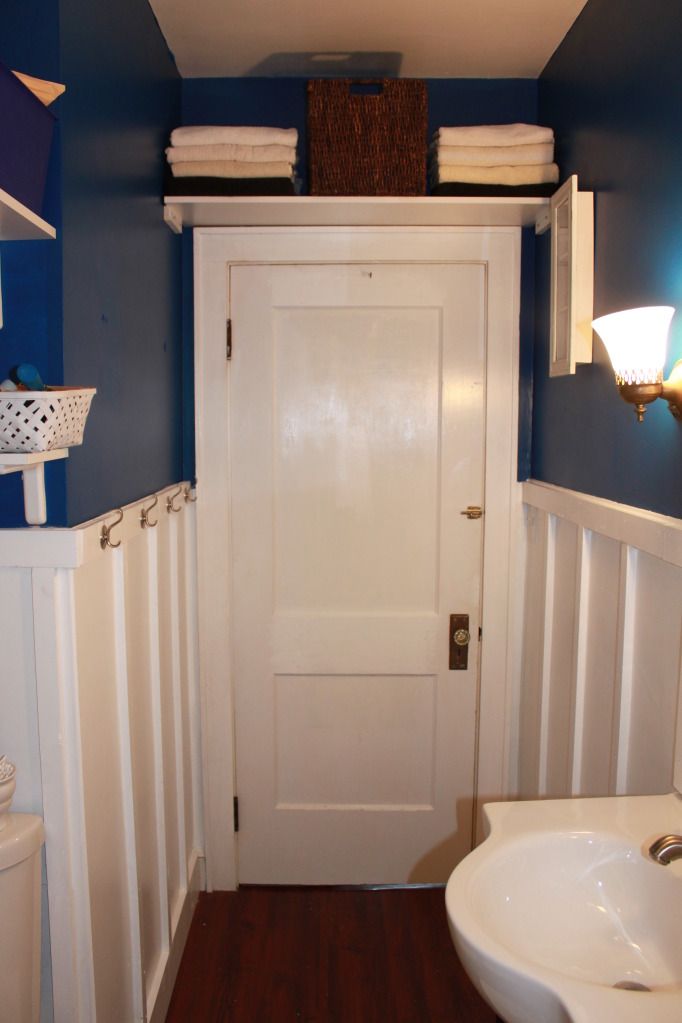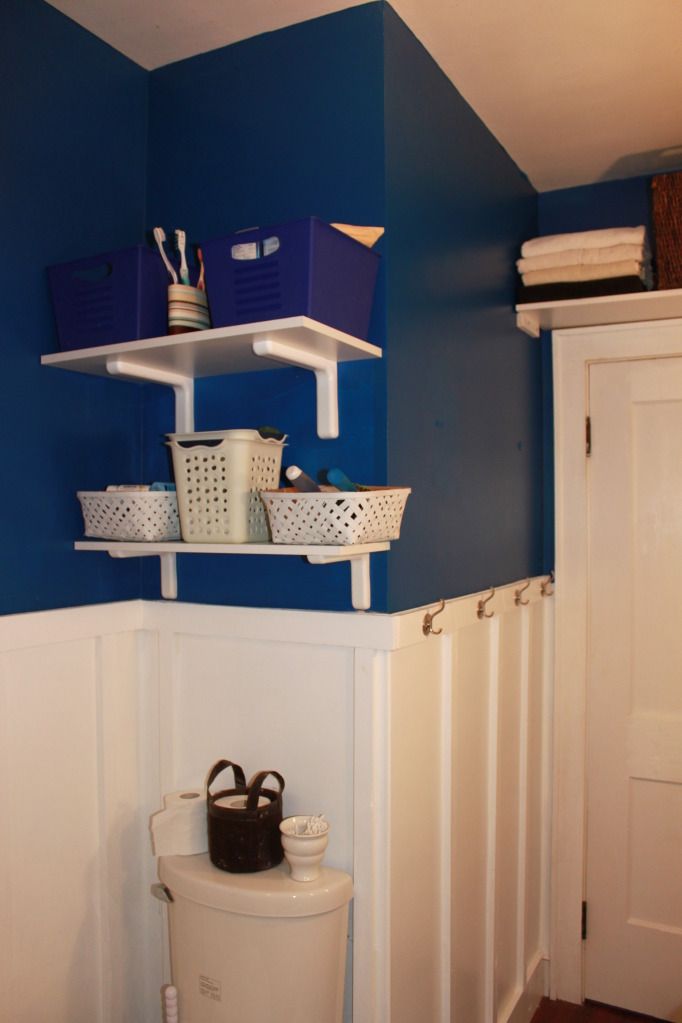 Hookers
I'm in love.  I'm SO happy with it.  There are a few more changes that need to happen (I hate the blue baskets, so they're being replaced with white ones, and art will be hung on the wall above the towel hooks).  I couldn't wait any longer to show after pictures (I darted in there as soon as the cleaning lady left today I finished cleaning).  It is totally different than my original idea yet exactly what I wanted.  It is wonderful.  It's 100% the best I could have done with that bathroom for under $150.
YES!  Under $150.  Here's the list:
$30 for white paint
$15 for Zinsser white primer
$38 for blue paint (and that's the damn 40% off price!!)
$12 for hooks
$12 for shelves
$13 for board and batten
$10 shower curtain
 Total: $145
And really, it's less than that, because we needed the primer and white paint for the kitchen remodel.  Don't tell my husband!
I did it all myself, too.  The husband did some of the boy stuff, like painting around the ceiling, and hanging the towel hooks and new curtain rod, but I did all the design, painting, board and batten, accessories, etc.  Major props to my father-in-law for making me that awesome mirror frame.
I'm exhausted and exhilarated at the same time.  Hope you guys like!!
Details on what was used and how found here: The Bathroom Details